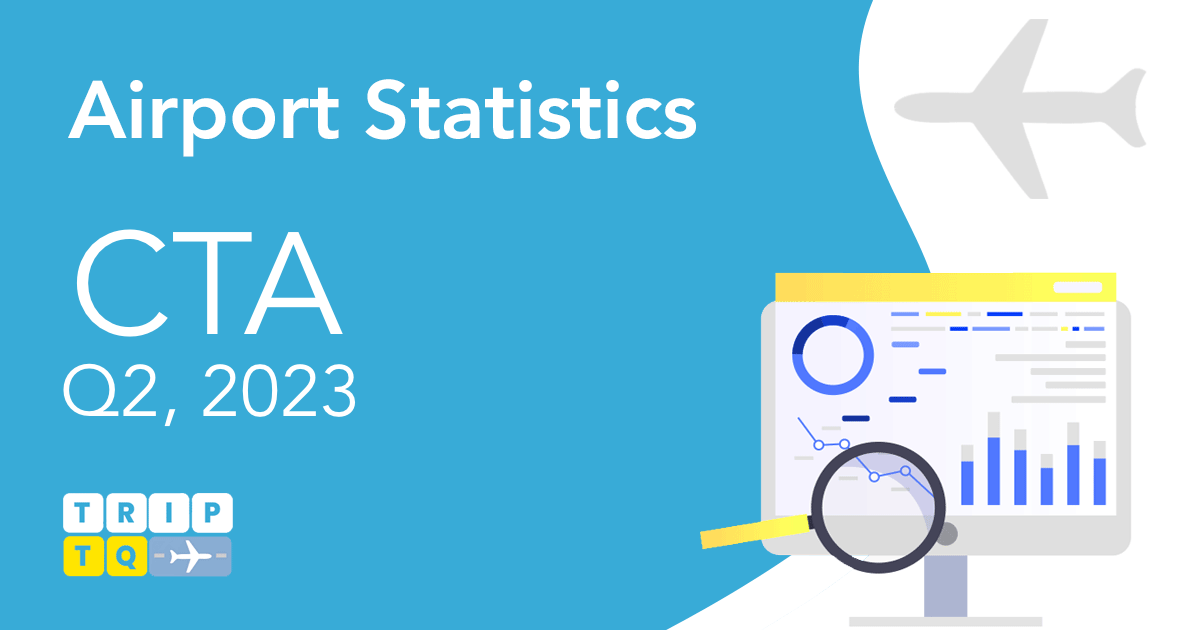 Remarkable 6.82% Growth in Post-Pandemic Passenger Numbers Q2 2023 at Catania Airport
A significant rise in passenger numbers in Q2 at Catania Airport with a 7.29% increase in passenger numbers compared to Q2 last year, and an increase of 6.82% over the same quarter before the pandemic in 2019 solidifying it's recovery from the extensive lockdowns imposed in Italy regarding air travel.
Comparing Quarter 2 (Q2) Passenger Statistics at Catania Airport in 2023 with the Previous Four Years
From Q2 2019 to Q2 2023, there was an increase in passenger traffic from 2,884,931 to 3,081,807, representing a change of 6.82%. This shows a modest growth over the four years. There are substantial fluctuations when looking at the Q2 data for each year individually.
In Q2 2020, there was a significant decrease in passenger numbers, with only 112,291 recorded, marking a change of -96.11% compared to the same quarter of the previous year. However, in Q2 2021, there was a dramatic recovery with 1,051,502 passengers, indicating a change of 836.41% compared to the previous year.
In Q2 2022, there was further growth with 2,872,415 passengers, representing a change of 173.17% compared to the previous year. Finally, in Q2 2023, a small increase of 7.29% compared to the same quarter of the previous year, reaching 3,081,807 passengers.
The overall passenger statistics at Catania Airport from 2018 to 2022 show a significant growth trend. 2019 there was a 2.93% increase in passengers compared to the previous year, reaching 10,219,713 passengers. However, in 2020, there was a significant decline with only 3,651,816 passengers, marking a change of -64.27% from the previous year.
The trend reversed in 2021, with a substantial increase of 67.57% compared to the previous year, resulting in 6,119,288 passengers. This positive momentum continued into 2022, with a further increase of 65.05% compared to the previous year, reaching 10,099,644 passengers.
These statistics show that Catania Airport experienced a period of decline in 2020 due to the impact of the COVID-19 pandemic, but it has since rebounded and demonstrated positive growth in passenger numbers in recent years.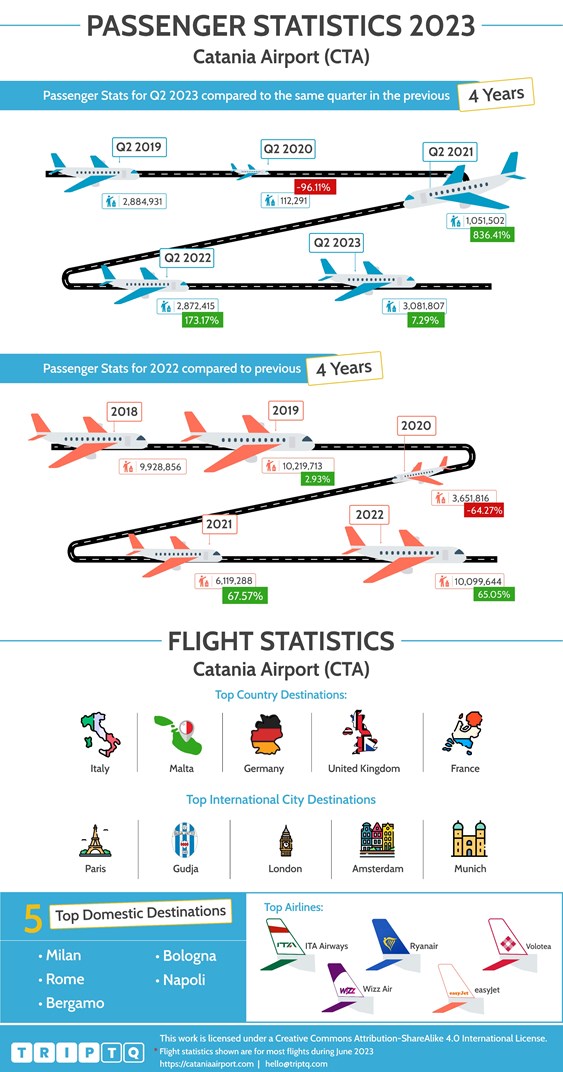 This work is licensed under a
Creative Commons Attribution 4.0 International License
.
View Full Size
Analysis of Flight Statistics and Trends for July 2023
Regarding the top country destinations, the most popular destinations for travelers departing from Catania Airport in July 2023 are Italy, Germany, the United Kingdom, France, and Malta. These countries likely attract a significant number of tourists and business travelers.
For international destinations, the top choices for passengers from Catania Airport in July 2023 are Gudja (presumably in Malta), London, Paris, Amsterdam, and Munich. These cities likely offer a range of attractions and travel opportunities, attracting a diverse set of travelers.
Regarding domestic travel, the most frequented destinations from Catania Airport in July 2023 are Milan, Rome, Bologna, Napoli, and Bergamo. These cities are popular within Italy for various reasons, such as cultural sites, business opportunities, and tourism.
For airlines, the top carriers operating at Catania Airport in July 2023 are Ryanair, easyJet, ITA Airways, Wizz Air, and Volotea. These airlines likely offer a combination of international and domestic flights, providing travelers with various options and competitive fares.
Analyzing Passenger Trends: Quarter-to-Quarter Comparison
In Q2 of 2019, there were 2,884,931 passengers at Catania Airport. By Q2 of 2023, this number increased to 3,081,807 passengers, representing an increase of 6.82%. This marks the highest quarter with the most passengers recorded in the airport's history. When comparing Q2 of 2023 to the previous highest quarter, which was Q2 of 2019 with 2,884,931 passengers, the difference also amounts to 6.82%.
Similarly, Q2 of 2023 is the highest matching quarter, with the same time frame as Q2 of 2019, which also had 2,884,931 passengers. The difference between the two quarters remains at 6.82%.On the other hand, the lowest quarter on record is Q2 of 2020, where only 112,291 passengers were recorded at the airport.
Comparing this to the latest quarter, Q2 of 2023, the difference is significant at 2,644.48%. These statistics indicate a positive trend in passenger numbers at Catania Airport, with Q2 of 2023 being the highest quarter in passenger volume. The comparison with the lowest quarter, Q2 of 2020, highlights a substantial recovery and growth in passenger traffic over the years.
Are you a travel publisher and would like this information for your site/blog/publication?
Contact us on this form to request Catania Airport Statistics (Statistics, data and infographics are available for a wide range of airports worldwide - please tell us your requirements using the form)
UNBEATABLE VALUE CAR RENTAL

FREE
Amendments,
FREE
Cancellations,
NO
card fees!

airport_shuttle Need Airport Transfers?
Useful Information about Catania Airport