Flights, Arrivals & Departures at Catania Airport
Origin
Airline
Flight no.
Scheduled
Est./Actual
Status
Abu Dhabi (AUH)
Wizz Air
W48198
00:20
00:39
Landed
Venice (VCE)
Ryanair
FR900
00:35
00:33
Landed
Casablanca (CMN)
Air Arabia Maroc
3O485
01:10
Cancelled
Rome (FCO)
Ryanair
FR1170
07:10
06:50
Landed
Bologna (BLQ)
Ryanair
FR739
07:25
07:12
Landed
Turin (TRN)
Ryanair
FR910
07:50
07:39
Landed
Milan (MXP)
Ryanair
FR1070
07:55
07:56
Landed
Rome (FCO)
Ryanair
FR4852
08:10
08:56
Landed
Pisa (PSA)
Ryanair
FR6204
08:20
08:04
Landed
Budapest (BUD)
Ryanair
FR6278
08:45
08:35
Landed
Milan (LIN)
ITA Airways
AZ1746
09:00
08:50
Landed
Wasaw Modlin (WMI)
Ryanair
FR5440
09:05
09:11
Landed
Berlin (BER)
easyJet
U25077
09:15
10:14
Landed
Perugia (PEG)
Ryanair
FR2706
09:15
09:03
Landed
Milan (MXP)
easyJet
U23535
09:25
09:16
Landed
Rome (FCO)
ITA Airways
AZ1709 expand_more(4)
09:30
09:33
Landed
Rome (FCO)
Aerolineas Argentinas
AR7190
09:30
09:33
Landed
Rome (FCO)
Ethiopian Airlines
ET4009
09:30
09:33
Landed
Rome (FCO)
Etihad Airways
EY3019
09:30
09:33
Landed
Rome (FCO)
Korean Air
KE5605
09:30
09:33
Landed
Bergamo (BGY)
Ryanair
FR2261
10:00
09:47
Landed
Vienna (VIE)
Ryanair
FR1565
10:00
09:52
Landed
Rome (FCO)
Aeroitalia
XZ2811
10:15
10:10
Landed
Rome (FCO)
Flexflight
W28542
10:15
Unknown
Milan (LIN)
ITA Airways
AZ1727
10:20
10:24
Landed
Trieste (TRS)
Ryanair
FR2708
10:45
10:28
Landed
Bologna (BLQ)
Wizz Air
W48184
10:50
10:20
Landed
Rome (FCO)
ITA Airways
AZ1731 expand_more(9)
10:55
11:01
Landed
Rome (FCO)
Aerolineas Argentinas
AR7256
10:55
11:01
Landed
Rome (FCO)
AirSERBIA
JU7203
10:55
11:01
Landed
Rome (FCO)
China Airlines
CI9289
10:55
11:01
Landed
Rome (FCO)
China Southern Airlines
CZ7352
10:55
11:01
Landed
Rome (FCO)
Delta Air Lines
DL6624
10:55
11:01
Landed
Rome (FCO)
Ethiopian Airlines
ET4027
10:55
11:01
Landed
Rome (FCO)
Etihad Airways
EY2841
10:55
11:01
Landed
Rome (FCO)
KLM
KL3470
10:55
11:01
Landed
Rome (FCO)
Luxair
LG1301
10:55
11:01
Landed
Venice (VCE)
Ryanair
FR378
11:00
10:46
Landed
Luton (LTN)
easyJet
U22491
11:10
11:21
Landed
Dubai (DXB)
flydubai
FZ1501 expand_more(1)
11:15
10:58
Landed
Dubai (DXB)
Emirates
EK2185
11:15
10:58
Landed
Paris (CDG)
easyJet
U24557
11:30
11:24
Landed
Bari (BRI)
AlbaStar
AP5003
11:55
Delayed
Paris (BVA)
Ryanair
FR2850
12:10
11:48
Landed
Frankfurt (FRA)
Lufthansa
LH306 expand_more(1)
12:15
Delayed
Frankfurt (FRA)
All Nippon Airways
NH5875
12:15
Delayed
Bologna (BLQ)
Ryanair
FR1085
13:10
12:48
Landed
Pantelleria (PNL)
DAT
DX1900
13:10
Scheduled
Rome (FCO)
Ryanair
FR4856
13:15
12:55
Landed
Rome (FCO)
ITA Airways
AZ1711 expand_more(2)
13:25
Scheduled
Rome (FCO)
Delta Air Lines
DL6681
13:25
Scheduled
Rome (FCO)
Turkish Airlines
TK8029
13:25
Scheduled
Ancona (AOI)
Ryanair
FR299
13:35
Scheduled
Milan (LIN)
ITA Airways
AZ1713 expand_more(1)
13:40
Scheduled
Milan (LIN)
Air France
AF9742
13:40
Scheduled
Sharm El Sheikh (SSH)
Air Cairo
SM811
14:00
Scheduled
Napoli (NAP)
Ryanair
FR4314
14:10
Scheduled
Barcelona (BCN)
Vueling
VY6534 expand_more(3)
14:15
Scheduled
Barcelona (BCN)
Iberia
IB5458
14:15
Scheduled
Barcelona (BCN)
Qatar Airways
QR3721
14:15
Scheduled
Barcelona (BCN)
Qatar Airways
QR3551
14:15
Scheduled
Milan (LIN)
ITA Airways
AZ1723 expand_more(1)
14:20
Scheduled
Milan (LIN)
KLM
KL3472
14:20
Scheduled
Rome (FCO)
Aeroitalia
XZ2813
14:20
Scheduled
Rome (FCO)
Flexflight
W28544
14:20
Scheduled
Sharm El Sheikh (SSH)
Wizz Air
W48602
14:25
Scheduled
Rome (FCO)
ITA Airways
AZ1745 expand_more(10)
14:35
Scheduled
Rome (FCO)
Air Europa
UX3217
14:35
Scheduled
Rome (FCO)
Air France
AF9790
14:35
Scheduled
Rome (FCO)
Bulgaria Air
FB1651
14:35
Scheduled
Rome (FCO)
China Airlines
CI9287
14:35
Scheduled
Rome (FCO)
Delta Air Lines
DL6691
14:35
Scheduled
Rome (FCO)
Etihad Airways
EY3021
14:35
Scheduled
Rome (FCO)
KLM
KL3445
14:35
Scheduled
Rome (FCO)
Kuwait Airways
KU6283
14:35
Scheduled
Rome (FCO)
TAP Air Portugal
TP7218
14:35
Scheduled
Rome (FCO)
Tarom
RO9741
14:35
Scheduled
Milan (MXP)
easyJet
U23539
14:55
Scheduled
Bergamo (BGY)
Aeroitalia
XZ2024
15:05
Scheduled
Bergamo (BGY)
Flexflight
W28595
15:05
Scheduled
Milan (MXP)
Ryanair
FR2179
15:15
Scheduled
Geneva (GVA)
easyJet
U21431
15:20
Scheduled
Turin (TRN)
Ryanair
FR1033
15:30
Scheduled
Florence (FLR)
Volotea
V71705
15:40
Scheduled
Sofia (SOF)
Wizz Air
W64375
15:40
Scheduled
Milan (LIN)
Wizz Air
W45575
16:00
Scheduled
Rome (FCO)
Air Cairo
SM808
16:05
Diverted
Rome (FCO)
Air Cairo
SM807
16:05
Scheduled
Bergamo (BGY)
Ryanair
FR6175
16:30
Scheduled
Munich (MUC)
Lufthansa
LH1906 expand_more(1)
16:45
Cancelled
Munich (MUC)
Air Malta
KM2950
16:45
Cancelled
Milan (MXP)
easyJet
U23545
17:00
Scheduled
Florence (FLR)
VistaJet
H5224
17:28
Scheduled
Rome (FCO)
Ryanair
FR4858
17:35
Scheduled
Milan (LIN)
ITA Airways
AZ1721 expand_more(1)
17:40
Scheduled
Milan (LIN)
KLM
KL3471
17:40
Scheduled
Bucharest (OTP)
Ryanair
FR1627
17:55
Scheduled
Istanbul (IST)
Turkish Airlines
TK1395
18:20
Scheduled
Rome (FCO)
ITA Airways
AZ1733 expand_more(16)
18:30
Scheduled
Rome (FCO)
Aerolineas Argentinas
AR7189
18:30
Scheduled
Rome (FCO)
Air Baltic
BT5555
18:30
Scheduled
Rome (FCO)
Air Europa
UX3121
18:30
Scheduled
Rome (FCO)
Air France
AF9792
18:30
Scheduled
Rome (FCO)
AirSERBIA
JU7204
18:30
Scheduled
Rome (FCO)
Bulgaria Air
FB1649
18:30
Scheduled
Rome (FCO)
Etihad Airways
EY2842
18:30
Scheduled
Rome (FCO)
Kenya Airways
KQ4341
18:30
Scheduled
Rome (FCO)
KLM
KL3426
18:30
Scheduled
Rome (FCO)
Kuwait Airways
KU6253
18:30
Scheduled
Rome (FCO)
Luxair
LG1307
18:30
Scheduled
Rome (FCO)
Royal Air Maroc
AT9198
18:30
Scheduled
Rome (FCO)
Royal Jordanian
RJ3561
18:30
Scheduled
Rome (FCO)
Saudia
SV6229
18:30
Scheduled
Rome (FCO)
TAP Air Portugal
TP7190
18:30
Scheduled
Rome (FCO)
Turkish Airlines
TK8040
18:30
Scheduled
Warsaw (WAW)
Wizz Air
W61453
18:45
Scheduled
Rome (FCO)
Aeroitalia
XZ2817
18:55
Scheduled
Rome (FCO)
Flexflight
W28552
18:55
Scheduled
Milan (MXP)
Ryanair
FR5063
18:55
Scheduled
Berlin (BER)
Ryanair
FR1576
19:05
Scheduled
Turin (TRN)
Ryanair
FR1019
19:10
Scheduled
Verona (VRN)
Volotea
V71745
19:10
Scheduled
Verona (VRN)
Wizz Air
W48226
19:30
Scheduled
Turin (TRN)
Wizz Air
W48202
19:35
Scheduled
Bologna (BLQ)
Ryanair
FR3890
19:40
Scheduled
Milan (LIN)
ITA Airways
AZ1701 expand_more(1)
19:45
Scheduled
Milan (LIN)
Air France
AF9752
19:45
Scheduled
Milan (MXP)
easyJet
U23543
20:10
Scheduled
Rome (FCO)
ITA Airways
AZ1753 expand_more(2)
20:20
Scheduled
Rome (FCO)
Aerolineas Argentinas
AR7278
20:20
Scheduled
Rome (FCO)
Air Europa
UX3219
20:20
Scheduled
Brussels (CRL)
Ryanair
FR6083
20:25
Scheduled
Venice (VCE)
Wizz Air
W48182
21:00
Scheduled
Napoli (NAP)
easyJet
U24109
21:10
Scheduled
Rome (FCO)
Ryanair
FR4872
21:15
Scheduled
Bergamo (BGY)
Ryanair
FR6651
21:40
Scheduled
Milan (MXP)
easyJet
U23547
22:10
Scheduled
Milan (MXP)
Ryanair
FR5513
22:20
Scheduled
Verona (VRN)
Ryanair
FR5018
22:25
Scheduled
Rome (FCO)
Ryanair
FR4861
22:40
Scheduled
Gudja (MLA)
Air Malta
KM642 expand_more(1)
22:40
Scheduled
Gudja (MLA)
ITA Airways
AZ7921
22:40
Scheduled
Rome (FCO)
Aeroitalia
XZ2815
22:40
Scheduled
Rome (FCO)
Flexflight
W28546
22:40
Scheduled
Rome (FCO)
ITA Airways
AZ1735 expand_more(10)
22:45
Scheduled
Rome (FCO)
Aerolineas Argentinas
AR7286
22:45
Scheduled
Rome (FCO)
Air Europa
UX3131
22:45
Scheduled
Rome (FCO)
Air France
AF9867
22:45
Scheduled
Rome (FCO)
AirSERBIA
JU7300
22:45
Scheduled
Rome (FCO)
Etihad Airways
EY2843
22:45
Scheduled
Rome (FCO)
KLM
KL3427
22:45
Scheduled
Rome (FCO)
Luxair
LG1309
22:45
Scheduled
Rome (FCO)
Royal Air Maroc
AT9197
22:45
Scheduled
Rome (FCO)
TAP Air Portugal
TP7198
22:45
Scheduled
Rome (FCO)
Turkish Airlines
TK8032
22:45
Scheduled
Gudja (MLA)
Ryanair
FR367
23:00
Scheduled
Tirana (TIA)
Ryanair
FR8370
23:40
Scheduled
Milan (LIN)
ITA Airways
AZ1743 expand_more(2)
23:45
Scheduled
Milan (LIN)
Air France
AF9743
23:45
Scheduled
Milan (LIN)
KLM
KL3475
23:45
Scheduled
Hahn (HHN)
Ryanair
FR2837
23:55
Scheduled
Destination
Airline
Flight no.
Scheduled
Est./Actual
Status
Casablanca (CMN)
Air Arabia Maroc
3O486
02:00
Cancelled
Perugia (PEG)
Ryanair
FR2705
06:00
05:53
En-Route
Rome (FCO)
ITA Airways
AZ1722 expand_more(13)
06:00
05:58
En-Route
Rome (FCO)
Aerolineas Argentinas
AR7295
06:00
05:58
En-Route
Rome (FCO)
Air Europa
UX3204
06:00
05:58
En-Route
Rome (FCO)
AirSERBIA
JU7299
06:00
05:58
En-Route
Rome (FCO)
Bulgaria Air
FB1650
06:00
05:58
En-Route
Rome (FCO)
China Airlines
CI9262
06:00
05:58
En-Route
Rome (FCO)
Delta Air Lines
DL6623
06:00
05:58
En-Route
Rome (FCO)
Etihad Airways
EY2835
06:00
05:58
En-Route
Rome (FCO)
Hainan Airlines
HU8142
06:00
05:58
En-Route
Rome (FCO)
KLM
KL3424
06:00
05:58
En-Route
Rome (FCO)
Luxair
LG1256
06:00
05:58
En-Route
Rome (FCO)
Royal Air Maroc
AT9171
06:00
05:58
En-Route
Rome (FCO)
TAP Air Portugal
TP7191
06:00
05:58
En-Route
Rome (FCO)
Turkish Airlines
TK8041
06:00
05:58
En-Route
Paris (BVA)
Ryanair
FR2851
06:15
06:16
En-Route
Milan (LIN)
ITA Airways
AZ1742 expand_more(2)
06:30
06:28
En-Route
Milan (LIN)
Air France
AF9755
06:30
06:28
En-Route
Milan (LIN)
KLM
KL3476
06:30
06:28
En-Route
Bologna (BLQ)
Wizz Air
W48183
06:40
06:38
En-Route
Rome (FCO)
Aeroitalia
XZ2810
06:45
06:57
En-Route
Trieste (TRS)
Ryanair
FR2707
06:45
06:47
En-Route
Rome (FCO)
Flexflight
W28541
06:45
Unknown
Sharm el-Sheikh (SSH)
Wizz Air
W48601
07:15
07:15
En-Route
Rome (FCO)
Ryanair
FR1171
07:35
07:41
En-Route
Bologna (BLQ)
Ryanair
FR740
07:55
08:06
En-Route
Turin (TRN)
Ryanair
FR909
08:15
08:37
En-Route
Milan (MXP)
Ryanair
FR1071
08:25
08:59
En-Route
Rome (FCO)
Ryanair
FR4851
08:35
09:45
En-Route
Pisa (PSA)
Ryanair
FR6205
08:50
08:53
En-Route
Budapest (BUD)
Ryanair
FR6279
09:15
09:27
En-Route
Warsaw (WMI)
Ryanair
FR5441
09:35
10:04
En-Route
Milan (LIN)
ITA Airways
AZ1747 expand_more(3)
09:50
09:53
En-Route
Milan (LIN)
Air France
AF9753
09:50
09:53
En-Route
Milan (LIN)
Air Malta
KM2660
09:50
09:53
En-Route
Milan (LIN)
KLM
KL3520
09:50
09:53
En-Route
Ancona (AOI)
Ryanair
FR300
09:55
10:01
En-Route
Berlin (BER)
easyJet
U25078
09:55
11:15
En-Route
Milan (MXP)
easyJet
U23536
10:05
10:16
En-Route
Rome (FCO)
ITA Airways
AZ1710 expand_more(12)
10:15
10:30
En-Route
Rome (FCO)
Aerolineas Argentinas
AR7265
10:15
10:30
En-Route
Rome (FCO)
Air Europa
UX3202
10:15
10:30
En-Route
Rome (FCO)
Air France
AF9761
10:15
10:30
En-Route
Rome (FCO)
AirSERBIA
JU7199
10:15
10:30
En-Route
Rome (FCO)
Delta Air Lines
DL6686
10:15
10:30
En-Route
Rome (FCO)
Etihad Airways
EY3014
10:15
10:30
En-Route
Rome (FCO)
KLM
KL3451
10:15
10:30
En-Route
Rome (FCO)
Kuwait Airways
KU6252
10:15
10:30
En-Route
Rome (FCO)
Luxair
LG1248
10:15
Scheduled
Rome (FCO)
Royal Air Maroc
AT9170
10:15
10:30
En-Route
Rome (FCO)
Saudia
SV6231
10:15
10:30
En-Route
Rome (FCO)
Tarom
RO9740
10:15
10:30
En-Route
Vienna (VIE)
Ryanair
FR1566
10:25
10:49
En-Route
Milan (BGY)
Ryanair
FR2262
10:30
10:40
En-Route
Milan (BGY)
Flexflight
W28596
10:55
Scheduled
Milan (BGY)
Aeroitalia
XZ2025
10:55
11:03
En-Route
Milan (LIN)
ITA Airways
AZ1718
11:05
11:34
En-Route
Turin (TRN)
Ryanair
FR1032
11:15
11:31
En-Route
Venice (VCE)
Ryanair
FR377
11:25
11:41
En-Route
Milan (LIN)
Wizz Air
W45576
11:25
11:29
En-Route
Rome (FCO)
ITA Airways
AZ1724 expand_more(15)
11:40
11:56
En-Route
Rome (FCO)
Aerolineas Argentinas
AR7287
11:40
11:56
En-Route
Rome (FCO)
Air Baltic
BT5517
11:40
11:56
En-Route
Rome (FCO)
Air Europa
UX3112
11:40
11:56
En-Route
Rome (FCO)
Air France
AF9760
11:40
11:56
En-Route
Rome (FCO)
AirSERBIA
JU7201
11:40
11:56
En-Route
Rome (FCO)
Delta Air Lines
DL6707
11:40
11:56
En-Route
Rome (FCO)
Etihad Airways
EY2836
11:40
11:56
En-Route
Rome (FCO)
Kenya Airways
KQ4338
11:40
11:56
En-Route
Rome (FCO)
KLM
KL3425
11:40
11:56
En-Route
Rome (FCO)
Luxair
LG1250
11:40
Scheduled
Rome (FCO)
Royal Air Maroc
AT9169
11:40
11:56
En-Route
Rome (FCO)
Royal Jordanian
RJ3562
11:40
11:56
En-Route
Rome (FCO)
Saudia
SV6230
11:40
11:56
En-Route
Rome (FCO)
TAP Air Portugal
TP7187
11:40
11:56
En-Route
Rome (FCO)
Turkish Airlines
TK8046
11:40
11:56
En-Route
London (LTN)
easyJet
U22492
11:50
Scheduled
Dubai (DXB)
flydubai
FZ1502 expand_more(1)
12:15
Scheduled
Dubai (DXB)
Emirates
EK2186
12:15
Scheduled
Paris (CDG)
easyJet
U24558
12:20
Scheduled
Bucharest (OTP)
Ryanair
FR1626
13:00
Scheduled
Frankfurt (FRA)
Lufthansa
LH307
13:10
Scheduled
Bologna (BLQ)
Ryanair
FR1086
13:40
Scheduled
Pantelleria (PNL)
DAT
DX1901
13:45
Scheduled
Rome (FCO)
Ryanair
FR4855
13:50
Scheduled
Rome (FCO)
ITA Airways
AZ1734 expand_more(1)
14:10
Scheduled
Rome (FCO)
Aerolineas Argentinas
AR7191
14:10
Scheduled
Brussels (CRL)
Ryanair
FR6084
14:25
Scheduled
Milan (LIN)
ITA Airways
AZ1714 expand_more(1)
14:30
Scheduled
Milan (LIN)
KLM
KL3479
14:30
Scheduled
Naples (NAP)
Ryanair
FR4313
14:40
Scheduled
Rome (FCO)
Flexflight
W28543
14:55
Scheduled
Turin (TRN)
Wizz Air
W48201
14:55
Scheduled
Rome (FCO)
Aeroitalia
XZ2812
14:55
Scheduled
Sharm el-Sheikh (SSH)
Air Cairo
SM812
15:00
Scheduled
Milan (LIN)
ITA Airways
AZ1704 expand_more(2)
15:05
Scheduled
Milan (LIN)
Air France
AF9754
15:05
Scheduled
Milan (LIN)
KLM
KL3478
15:05
Scheduled
Barcelona (BCN)
Vueling
VY6535 expand_more(2)
15:05
Scheduled
Barcelona (BCN)
Iberia
IB5459
15:05
Scheduled
Barcelona (BCN)
Qatar Airways
QR3648
15:05
Scheduled
Verona (VRN)
Wizz Air
W48225
15:10
Scheduled
Rome (FCO)
ITA Airways
AZ1726 expand_more(12)
15:20
Scheduled
Rome (FCO)
Aerolineas Argentinas
AR7257
15:20
Scheduled
Rome (FCO)
Air Europa
UX3206
15:20
Scheduled
Rome (FCO)
Air France
AF9824
15:20
Scheduled
Rome (FCO)
AirSERBIA
JU7290
15:20
Scheduled
Rome (FCO)
Ethiopian Airlines
ET4038
15:20
Scheduled
Rome (FCO)
Etihad Airways
EY3015
15:20
Scheduled
Rome (FCO)
KLM
KL3454
15:20
Scheduled
Rome (FCO)
Korean Air
KE5604
15:20
Scheduled
Rome (FCO)
Luxair
LG1252
15:20
Scheduled
Rome (FCO)
Royal Air Maroc
AT9212
15:20
Scheduled
Rome (FCO)
TAP Air Portugal
TP7199
15:20
Scheduled
Rome (FCO)
Turkish Airlines
TK8047
15:20
Scheduled
Milan (MXP)
easyJet
U23540
15:45
Scheduled
Rome (FCO)
Aeroitalia
XZ2816
15:45
Scheduled
Milan (MXP)
Ryanair
FR2178
15:45
Scheduled
Rome (FCO)
Flexflight
W28551
15:45
Scheduled
Geneva (GVA)
easyJet
U21432
16:00
Scheduled
Sofia (SOF)
Wizz Air
W64376
16:15
Scheduled
Florence (FLR)
Volotea
V71704
16:20
Scheduled
Venice (VCE)
Wizz Air
W48181
16:45
Scheduled
Milan (BGY)
Ryanair
FR6174
16:55
Scheduled
Sharm el-Sheikh (SSH)
Air Cairo
SM808
17:05
Scheduled
Munich (MUC)
Lufthansa
LH1907 expand_more(1)
17:35
Scheduled
Munich (MUC)
Air Malta
KM2951
17:35
Scheduled
Milan (MXP)
easyJet
U23546
17:40
Scheduled
Rome (FCO)
Ryanair
FR4857
18:05
Scheduled
Frankfurt (HHN)
Ryanair
FR2836
18:15
Scheduled
Verona (VRN)
Ryanair
FR5017
18:25
Scheduled
Milan (LIN)
ITA Airways
AZ1720 expand_more(1)
18:45
Scheduled
Milan (LIN)
KLM
KL3491
18:45
Scheduled
Rome (FCO)
ITA Airways
AZ1712 expand_more(3)
19:15
Scheduled
Rome (FCO)
Ethiopian Airlines
ET4008
19:15
Scheduled
Rome (FCO)
Etihad Airways
EY2834
19:15
Scheduled
Rome (FCO)
Kenya Airways
KQ4340
19:15
Scheduled
Istanbul (IST)
Turkish Airlines
TK1396
19:20
Scheduled
Warsaw (WAW)
Wizz Air
W61454
19:20
Scheduled
Berlin (BER)
Ryanair
FR1577
19:35
Scheduled
Milan (MXP)
Ryanair
FR5062
19:40
Scheduled
Turin (TRN)
Ryanair
FR1020
19:45
Scheduled
Rome (FCO)
Flexflight
W28545
19:45
Scheduled
Rome (FCO)
Aeroitalia
XZ2814
19:45
Scheduled
Verona (VRN)
Volotea
V71744
19:55
Scheduled
Tirana (TIA)
Ryanair
FR8369
20:00
Scheduled
Bologna (BLQ)
Wizz Air
W48185
20:05
Scheduled
Bologna (BLQ)
Ryanair
FR3891
20:10
Scheduled
Milan (LIN)
Wizz Air
W45586
20:10
Scheduled
Milan (LIN)
ITA Airways
AZ1702
20:45
Scheduled
Milan (MXP)
easyJet
U23544
20:50
Scheduled
Malta (MLA)
Ryanair
FR368
20:55
Scheduled
Rome (FCO)
ITA Airways
AZ1752
21:05
Scheduled
Tirana (TIA)
Wizz Air
W46606
21:35
Scheduled
Rome (FCO)
Ryanair
FR4860
21:40
Scheduled
Naples (NAP)
easyJet
U24110
21:50
Scheduled
Milan (BGY)
Ryanair
FR6650
22:10
Scheduled
Milan (MXP)
Ryanair
FR5514
22:50
Scheduled
Rome (FCO)
Ryanair
FR4871
23:10
Scheduled
Malta (MLA)
Air Malta
KM643 expand_more(1)
23:25
Scheduled
Malta (MLA)
ITA Airways
AZ7920
23:25
Scheduled
Flying To and From Catania Airport
This page provides information about the destinations that can be reached via Catania Airport.
Was your flight delayed or cancelled?
You may be eligible to receive up to 600 EUR compensation per person in your party..
Claim Now!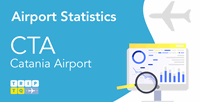 Catania Airport in Sicily, Italy, stands out as a prime example, witnessing a 6.22% increase in passenger traffic in September 2023 compared to the same month in 2019.