CATANIA AIRPORT (CTA) INFORMATION
Origin
Airline
Flight no.
Scheduled
Est./Actual
Status
No flight arrivals were found at Catania Airport.
Destination
Airline
Flight no.
Scheduled
Est./Actual
Status
No flight departures were found at Catania Airport.
Car Hire at Catania Airport
UNBEATABLE VALUE CAR RENTAL
Free Amendments | Free Cancellations | No Card Fees




Catania Airport - All Information on Catania International Airport (CTA) Catania Airport
Via Fontanarossa, 95121 Catania CT, Italy
phone +39 095 723 9111
phone+39 095 723 9630 (Lost + Found)
emailinfo@aeroporto.catania.it
emailbiglietteria@ghcatania.it (Lost+Found)
call_end0039 957 239 121 (fax)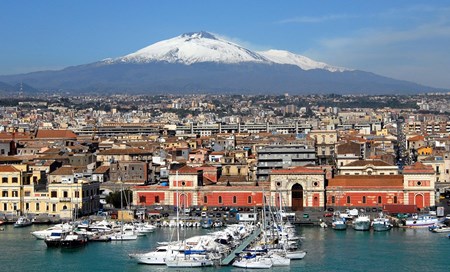 Catania Fontanarossa Airport, also sometimes called Vincenzo Bellini Airport after the composer Bellini, who was born in Catania, lies in the south of Italy, on the island of Sicily. The airport is about 4.3 km southwest of the city of Catania, and carries the IATA code of CTA, and the ICAO code of LICC.
Catania Airport offers travelers more than 100 destinations worldwide from two terminals. The newest of these is terminal C, the older one is terminal A. Catania Airport is the departure point for flights to destinations like Amsterdam and Berlin, Bologna, Dubai, Abu Dhabi, Torino, Bucharest, Geneva and Zürich, Frankfurt and Düsseldorf, Paris, Casablanca, Rome and Malta, Venice and Istanbul. Airlines operating from Catania Airport include Easyjet and Ryanair, Alitalia and Qatar, Turkish Airlines, Bulgaria Air, FlyDubai, Air France and Wizz.
The city of Catania is the second largest on the island of Sicily, after Palermo, which lies about 209 km to the west via the A19 motorway. Catania sits at the foot of Mt Etna, one of the most active volcanoes in Europe. The ancient port of Catania already attracted travelers back in Antiquity. Today some 9 million passengers pass through the airport every year.
Arrivals, Departures and Airlines at Catania Airport
Transfer Services at Catania Airport
Various car rental firms have their stations within the Arrivals area, just after the sliding doors. But there are also several offices within a short walking distance of the terminals. Car rental at Catania Airport includes well-known names like AG Transfers SRL, Avis, Autonoleggi Russo SRL, Budget, Europcar, InterRent, Enterprise, Goldcar, Joyrent, WinRent, Sicily by Car, Sicily Rent Car, Hollywood Rent A Car, Italy Rent Car, Locauto Rent, Maggiore, Firefly Car Rental, Hertz and Sixt. Sicily's beautiful countryside is best explored by car, although there are several bus lines that connect the airport to rural destinations and towns on the island.
The Alibus stop for Catania and stops for other urban and country bus lines are within a short walking distance of the terminals. Alibus services run every 20 minutes between 5.00 am and midnight, to Catania city center and the train station, with stops like Borsellino Square, Colombo and Faro Biscari en route.
The taxi rank offers passengers onward travel via two official airport taxi companies, Radio Taxi Catania (tel +39 095 330 966, www.radiotaxicatania.org ) and Taxi Service 6188 (+39 095 6188 33
www.6188.it ). A single trip for up to 4 passengers in a private taxi costs around 28.00 euros into Catania city.
Hotels near Catania Airport
There are a number of hotels to suit all budgets and requirements at or near Catania Airport.
Parking at Catania Airport
Just 120 meters or so from the terminals is the first car park. Catania Airport provides passengers with three parking lots. P4 is for long-term parking and is located closest to the terminals. P2 is about 300 meters from the terminals and is for short-term parking, as is P1, which is located some 350 meters from the terminals. Parking is free for the first 15 minutes in the short-term parking lots.
A tourist information office is also located inside the airport, where travelers can get information about onward travel between 8.00 and 10.00 pm every day. A Bus Ticket office is also inside the airport's terminals, in the arrivals areas.
Additional Services and Amenities at Catania Airport
At Catania Airport you will find the usual array of bars and restaurants, airport lounges and shops.
Catania Airport offers passengers duty free shopping, restaurants, wine bars, cafes and snack bars. There are also banking and currency exchange services in the terminals, and a baggage assistance service (Lost & Found), where passengers can collect their luggage from 9.00 am to 1.00 pm every day, and again from 5.00 pm to 9.00 pm in the evenings.
Disabled accessible restrooms, and restrooms with baby changing facilities are also available at Catania Airport.
Things to do in Catania
There are a number of activities to suit all ages and interests in the region - see a selection of tourist activities in Catania, Italy.
Services at Catania Airport
Useful Information about Catania Airport